"You do not rise to the level of your goals. You fall to the level of your systems."

James Clear (author, Atomic Habits)
When you hear the word "self-sufficient," what does that mean to you? For me, it means independent, trustworthy, and knowledgeable. The Oxford Dictionary defines self-sufficient as emotionally and intellectually independent. If we break that definition down even further, emotional independence is when we learn to have control over our internal state. The opposite being when we depend on external circumstances to determine our state of mind. Intellectual independence simply means to chose to think for yourself.
In the context of coaching or player/personal development, this means to have or be a player that:
Has control over their emotions.
Has the ability to make adjustments on their own.
As a pitching coach, I'm training players that must be strong in both of these. When you are out on the mound, there are incredible amounts of distraction and outside influence that can hinder performance if we let them. You also don't have the ability to discuss adjustments pitch-to-pitch with your coach. It's just you out there on the mound which is why I preach self-sufficiency to the players that I train.
So how do we do this?
Simply put, we create self-sufficient players through systems.
Not just one system, but through multiple systems. It's these systems that create an interconnected network in order to develop the player. If one system isn't working well it can affect the other systems and should be addressed. At Dynamic Velocity, we refer to these systems for pitchers as PITCHABILITIES.

Each level of our PITCHABILITIES is important, but we want players to understand that the most important "system" is our mindset. Our mindset will determine if we ever become a self-sufficient player or if we ever reach peak performance.
Habits Over Goals
Players have long been trained to create and focus on goals. This makes sense and I completely agree with goal setting, but we can't stop there. Some goals can be reached and outcomes met without ever changing our beliefs or habits. Without changing our mental or physical behaviors long-lasting change most likely won't occur. James Clear, author of book, Atomic Habits, explains that there are three layers of behavioral change.
Here is an excerpt from Atomic Habits where Clear describes "Identity-Based Habits":
The key to building lasting habits is focusing on creating a new identity first. Your current behaviors are simply a reflection of your current identity. What you do now is a mirror image of the type of person you believe that you are (either consciously or subconsciously).
To change your behavior for good, you need to start believing new things about yourself. You need to build identity-based habits. Imagine how we typically set goals. We might start by saying "I want to lose weight" or "I want to get stronger." If you're lucky, someone might say, "That's great, but you should be more specific." So then you say, "I want to lose 20 pounds" or "I want to squat 300 pounds."
These goals are centered around outcomes, not identity. To understand what I mean, consider that there are three levels at which change can occur. You can imagine them like the layers of an onion.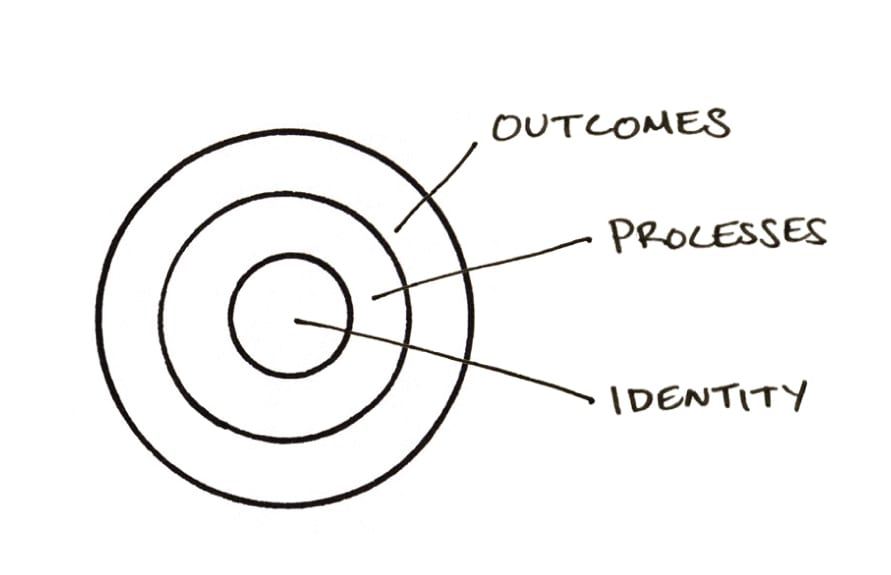 The first layer is changing your outcomes. This level is concerned with changing your results: losing weight, publishing a book, winning a championship. Most of the goals you set are associated with this level of change.
The second layer is changing your process. This level is concerned with changing your habits and systems: implementing a new routine at the gym, decluttering your desk for better workflow, developing a meditation practice. Most of the habits you build are associated with this level.
The third and deepest layer is changing your identity. This level is concerned with changing your beliefs: your worldview, your self-image, your judgments about yourself and others. Most of the beliefs, assumptions, and biases you hold are associated with this level.
Outcomes are about what you get. Processes are about what you do. Identity is about what you believe.
When it comes to building habits that last—when it comes to building a system of 1 percent improvements—the problem is not that one level is "better" or "worse" than another. All levels of change are useful in their own way. The problem is the direction of change. Many people begin the process of changing their habits by focusing on what they want to achieve. This leads us to outcome-based habits. The alternative is to build identity-based habits. With this approach, we start by focusing on who we wish to become.
The Recipe for Sustained Success
Changing your beliefs isn't nearly as hard as you might think.
There are two steps.
1. Decide the type of person you want to be.
2. Prove it to yourself with small wins.
First, decide who you want to be. This holds at any level—as an individual, as a team, as a community, as a nation. What do you want to stand for? What are your principles and values? Who do you wish to become? These are big questions, and many people aren't sure where to begin—but they do know what kind of results they want: to get six-pack abs or to feel less anxious or to double their salary. That's fine; start there and work backward from the results you want to the type of person who could get those results.
Ask yourself, "Who is the type of person that could get the outcome I want?" Here are five examples of how you can make this work in real life.
Want to lose weight?
Identity: Become the type of person who moves more every day.
Small win: Buy a pedometer. Walk 50 steps when you get home from work. Tomorrow, walk 100 steps. The day after that, 150 steps. If you do this 5 days per week and add 50 steps each day, then by the end of the year, you'll be walking over 10,000 steps per day.
Want to become a better writer?
Identity: Become the type of person who writes 1,000 words every day.
Small win: Write one paragraph each day this week.
Want to become strong?
Identity: Become the type of person who never misses a workout.
Small win: Do pushups every Monday, Wednesday, and Friday.
Want to be a better friend?
Identity: Become the type of person who always stays in touch.
Small win: Call one friend every Saturday. If you repeat the same people every 3 months, you'll stay close with 12 old friends throughout the year.
Want to be taken seriously at work?
Identity: become the type of person who is always on time.
Small win: Schedule meetings with an additional 15–minute gap between them so that you can go from meeting to meeting and always show up early.
Creating Triggers
One of the reasons I've been drawn to this approach of focusing on habits over goals is how simple it can be to implement. Many times as players or coaches we are creating these complex goal systems and wait for the perfect opportunity to start on this. As Clear asserts above, though, changing your belief really only takes two steps:
1. Decide the type of person you want to be.
2. Prove it to yourself with small wins.
Being a competitive person, I like the idea of winning – big or small. So how do we create these small wins? By being driven towards focusing on our habits. You can't merely focus on finding motivation, but rather proving your new identity to yourself. And it starts with creating triggers.
What are Triggers?
Triggers are the reminders of who we want to become and start us into the routine of getting there. In other words, triggers help us identify how we want to show up. When I explain this to players and coaches, I'll start by ask questions such as:
What type of person do you want to be when you warm up?
How does someone like you go through their strength training?
If someone came to watch you pitch, how would you want them to describe you?
Next, in each of the settings in those examples – warm-up, strength training, in-game – think of a constant. They could be:
For warm-ups, getting into a line before starting.
For strength-training, walking through the door into the gym.
For in-game, leaving the dugout, bullpen, or crossing over the foul line.
Then, once that trigger occurs ask yourself – how do I want to show up?
Your answer could be in the form of three adjectives such as:
Warm-up: Organized, Focused, Thorough
Strength Training: Athletic, Energetic, Explosive
In-Game: Relaxed, Confident, Determined
Finally, assess how you did. How did you show up? If you were relaxed, confident and determined during the game those are three small wins.
The key here is to realize that your small wins off the mound help you to create the big win on the mound. It's difficult to show up on game day relaxed, confident and determined if you didn't put in the work at practice or in the weight room. In order words, one system failed because other systems contributed to that failure.
To become a self-sufficient player, create those triggers that jump start you into a routine to become the type of player you identify with.
CALL TO ACTION:
Think of your in-game trigger.
Write down your trigger.
Think of three adjectives that describe how you want to show up in-game.
Open up Twitter and go to @tomoldham19
Share your trigger and the three adjectives.